We organizes a local mini party in Hong Kong tonight, to celebrate Mozilla 15-year open web!
In this year, our first mission is forming a local Mozilla community. This mini party is not the first meetup for our local community, but we gathered more new faces successfully.
With sponsorship from Mozilla, we give a try and order a custom made 3D cake which design is based on Mozilla Hong Kong mascot "Lucky Fox" (狐吉) , and we got this nice cake! ?
"Lucky Fox" is designed for Firefox Hong Kong User Community 2 years ago, when we organized Firefox 3 party in Hong Kong.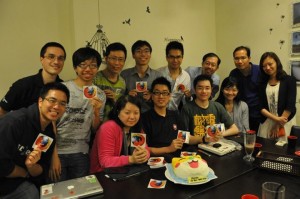 Sammy Fung, first Mozilla Rep in Hong Kong introduced Mozilla and talked about last year MozCamp Asia. And we talked a lot about Firefox, web and web browser, from the beginning of world wide web in Hong Kong (using Netscape Navigator).
And Daisy Fung blogged this party in Chinese.
Thanks for Hong Kong web users coming. ?